I must say Rodarte is one of my favorites of NY fashion week. The tawdry rocker chick from the future is very refreshing amongst the sea of safe fashion that infests NY fashion week. The pairing of something very hard and futuristic with something thrashed and primal looking, is very inspiring. The 2cd look from the far left of the collage reminds me of this: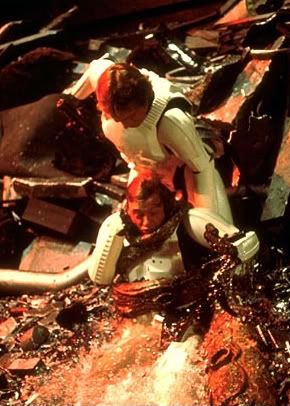 Which is NEVER a bad thing.
And excuse my poor collage skills, I have the shakiest hands on the plant so the lasso tool and I don't go super well together. But hey, I figured I might as well give you guys something different than just the pictures because I'm sure the blogging world will be a buzz about this collection.
-Cruz
OH P.S.
Carine FTW. That is all.