I've actually been sorta busy for once, so I figure a catch up post is needed! Some cool stuff happened this past week, I met up with the super sweet and stylish Raych from
That's Chic
last weekend to do some antique mall shopping downtown. Nicked these photos from her blog, check it out for more pics!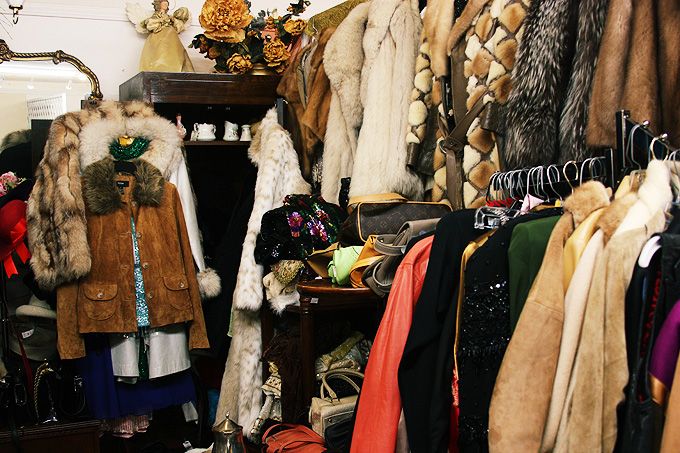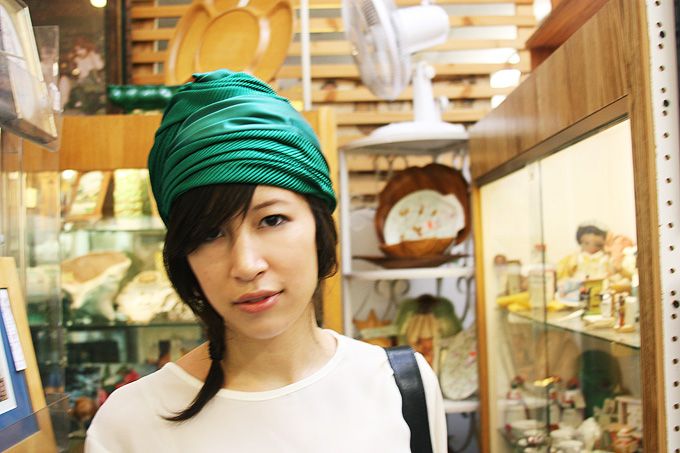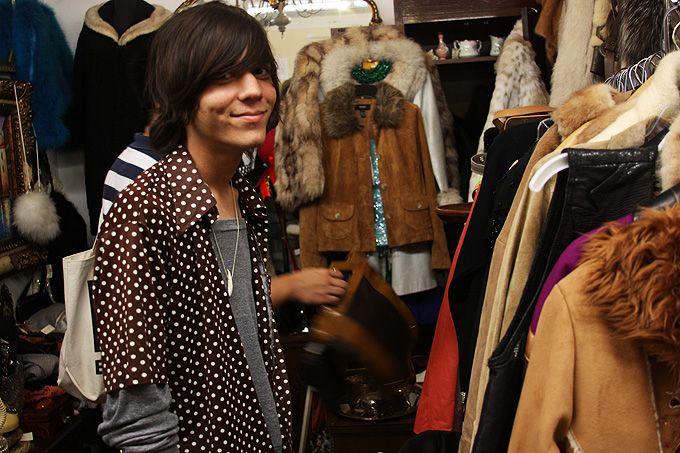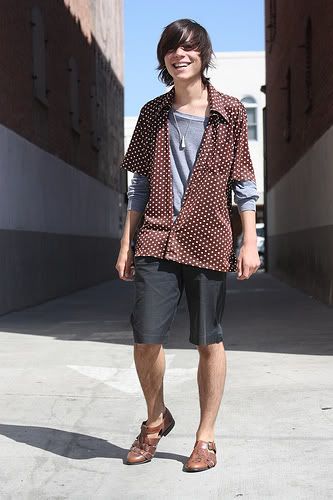 Raych and I did some outfit post photos too. I had on a vintage shirt, AA sweater, homemade buffalo tooth necklace, Target shorts, and Stacey Adams shoes.
I was featured on the very kind and stylish Kinder's blog
Closet Disorder
. Frankly, my "closet" (aka where I shove my clothes behind a self-made nook with a curtain cover) is a disaster far from being salvaged for photographing, so I went with the "boot corral", as it is often called by first time onlookers. Be sure to check out his blog! He has a great sense of style.
I am absolutely SMITTEN, by these pics from the new Vogue Hommes International. It takes a very special person to be able to style a man in a shaggy black fur coat and a tawdry backwards cap and have it look not only good, but masculine and rugged as well! Check out the full ed
here
.
I did indeed go to the Long Beach Flea Market last Sunday. HOWEVER, I failed to document ANYTHING because I left my memory card in our scanner and did not realize this until I whipped out my camera the moment I got there and saw the little flashing bastard "No Memory Card" on the view screen of my camera. Buttt, I did manage to snag some pretty fucking awesome stuff in my humble opinion, I mean I'm just really happy with my finds. So expect to see them photographed soon.
On Friday, some friends and I went to O'Neil and Teen Vogue's Generation Next to support our friend Kari. Here's a pic of the dress and bag she designed:
She was up against 3 other girls, and we had to text to vote for her to win, but she sadly didn't win. ): Her design was the best though. There was an after party and a lot of my schoolmates attended, which is really weird having fashion and school mix, but my friends and I skipped the after party to go for a night stroll on the beach. I also realized that I lost my fashion show virginity at that show haha!
Another thing I just feel like putting out there, is that just because I'm quite posey-posey in my photoshoots, does NOT mean I wanna be a model. At all. I just want to try to convey my photographic vision as best as possible, and if that requires me to act a fool, so be it. I want to act out the characters and attitudes these clothes command, it's not personal at all. Nothing provoked this, I just felt like letting you guys know my point of view. :) I mean, if it were up to me I'd be behind the lens every time.
Sorry this post is so random, expect an outfit post soon. Thanks again guys for coming back and reading and for all of your lovely comments! :)
-Cruz